This week is just flying by! I can hardly believe we have passed the halfway point of our week of chant. Today we learned the rest of the Ordinary for Friday's Mass, and continued with work on the Propers. We spent a lot of time marking our chant sheets for placement of the ictus, following the hierarchy of ictus rules. It is not quite totally unlike diagramming sentences LOL. In our 'spare time', we learned a little bit of conducting, mixed with a good bit of laughter. Let's just say that I will never be able to watch the Wicked Witch of the West's guards marching without thinking of conducting chant! :)
At the end of the day, we sang Evening Prayer in alternatum in the church, ending with Benediction. Afterwards, we joined the parish in the basement (!) for their weekly supper, followed by a talk from the pastor, Fr. Allan McDonald, on "Reform of the Reform within Continuity: A Personal Perspective". I wish someone would have recorded it.
Tomorrow, if there is time, we are supposed to learn the Te Deum, just 'for fun'. Woot!!
Here are a few more pictures: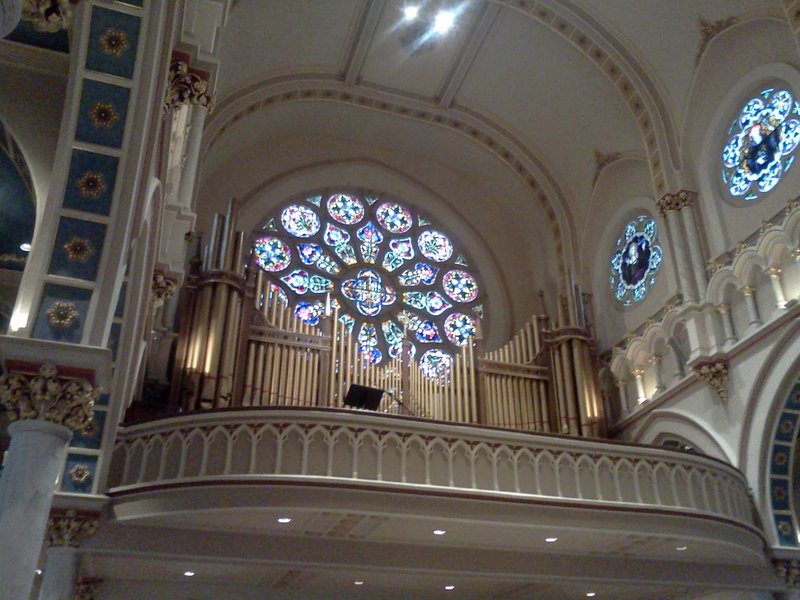 Rose window above the organ pipes





The Nativity scene is blocking the view